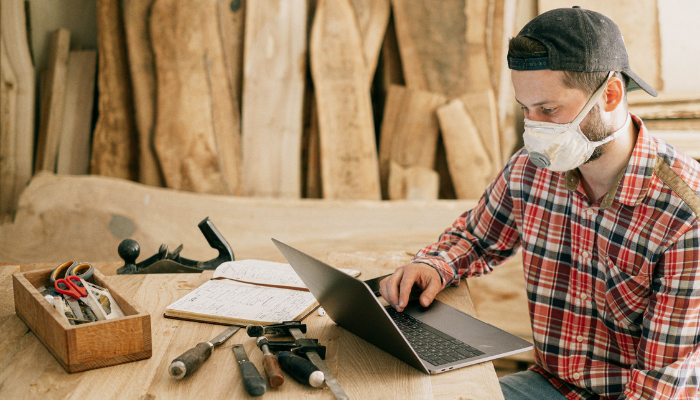 Virtual Assistant VS In-House Admin Person – Which is best for tradies?
Should you outsource or employ? 
As you grow your trades business you need to build and implement 'machines' into your business. There's only so much work you can do yourself and if you're going to grow you need to build these 'machines'.
One machine you need to build is a Back Office Machine. 
This machine takes care of all the bookkeeping, scheduling, invoicing and payroll, as well as the admin, safety procedures, paying bills, ordering of materials and time sheets. 
Basically all the organising in the business and all the jobs that you SHOULD NOT be doing. 
As the business owner, your focus should be on building the business – turning it into that scalable, systematic machine you've been dreaming of. 
You should be focusing on getting the work done on time and to the same high standard every time. And you should be focusing on the marketing and sales of this business. 
So between all of these jobs you don't have time to be doing the admin side of things. So put yourself where your expertise is valuable. 
Recommended Reading: Focus on Your Strengths
Hire someone else to do the admin work. 
There's a number of options as to where to get admin help from. 
A common option many tradies use, especially those smaller businesses just starting out on their own is to get their wife or husband to do all the admin for them. 

Another option is to simply hire someone. Someone who comes into the office, works from a desk and is there, physically. 

Hire someone virtually. They can work from home, from an office in Australia or even overseas. We call these people Virtual Assistants or VAs – meaning they're not there physically working with you.
Let's compare and contrast these options: 
If you're not using one you're missing out on something that can save you time, reduce mistakes and frustration, improve your customer service (and your customers' satisfaction) and improve your cash flow.
Option 1 – Your wife or husband
This has the potential to be a great solution. If you're just starting out on your own, it's an economically viable option and keeps the money in the family. 
But it has many pitfalls; 
Your wife/husband might find it hard to balance work and the kids. 

Your wife/husband could feel like they're just doing you a favour (if they're working for free) which can cause tension and build conflict in your personal relationship as well as put pressure on the business. 

This option isn't very scalable if you want to grow your business. 

If they're helping for free, the work can be of a lower quality (because stuff can get in the way; kids, home life, time management –

 ladies if you need a place to vent or ask questions about your hubby check out the

 Facebook Group Tradiewives

). 
This option can work well at the beginning but if you want to continue working with your husband/wife you need to hire them properly, pay them the correct wage and set boundaries; basically treat them like you would any other employee. 
If you're not using one you're missing out on something that can save you time, reduce mistakes and frustration, improve your customer service (and your customers' satisfaction) and improve your cash flow.
Option 2 – Hire Someone
You could hire someone locally; someone who comes into the office everyday or a couple of days a week), someone you can work with, talk to and build a relationship with. 
Now this option is pricey; averaging at about $25-30 an hour minimum. 
Yet this is a simple, easy option. 
The job expectations are clear, communication is easy – instead of the informality of working with your partner, as you've set clear rules and expectations. 
If someone is coming into your office a couple times a week you get the benefit of working with someone. Which makes it easier to communicate with your employee, to have the same understanding of what you want from and in your business and it's easier to build a relationship with said employee. 
If you're not using one you're missing out on something that can save you time, reduce mistakes and frustration, improve your customer service (and your customers' satisfaction) and improve your cash flow.
Option 3 – Virtual Assistants or VAs
There are lots of different types of Virtual Assistants out there who can help your business in different ways. 
There's an administrative assistant (generalist or specialist).
The type of VA you choose depends on what you're after and your budget.
1. Employ an overseas VA directly
You work and communicate with them and them only. They have a direct relationship with you. 
This is the cheapest option for a VA and we've been doing it this way for years. 
Put a job description together and pop an ad in a Facebook group for recruiting VAs or use a site like Upwork.
You can hire anyone this way – a generalist to do admin work or a specialist to do web design or social media.
The downside to this option is that you have to manage and train this person on your systems by yourself. 
You have to keep an eye on them; check in, do weekly reviews and daily catch ups to make sure they're on the same page, that they stay motivated and active.
2. Hire through an agency
They source, recruit, track and manage a VA for you (and you pay for it). 
There are many different agencies to hire through and they're all good for different reasons. 
They are an Australian company who work with VAs over in the Philippines. They'll hire you a full time Virtual Assistant who will work a 40hr week in an office in the Philippines. 
They manage this VA for you, they equip them with a computer, desk, etc and they'll train them in using Australian systems like Xero or Quickbooks.
Tradie VA's Virtual Assistants all specialise in trades businesses and have an intimate knowledge of the industry and trades administration, specifically the admin systems and processes as well as tracking business needs. 
The Virtual Assistants at Tradie VA are all experts in general admin, these guys are your generalists. They'll look after all the general admin you need covered in your trades business but they don't have specific field experts. 
A fulltime VA from Tradie VA will cost you $1,700 per month which averages at about $10 an hour. 
They are an Australian company and hire their VAs from overseas like Tradie VA. They are similarly priced to Tradie VA, with their average monthly price coming to around $1700. 
The Speed Up Co are more flexible in how many hours they can charge their VAs out at. They're happy to hire you a full time VA or if your budget is a bit smaller you can get one for 15 hours a week. 
The Speed Up Co have a broad range of skilled Virtual Assistants who specialise in many different areas like appointment setting, bookkeeping, finance, web design as well as your general admin assistants. 
They don't specialise in the trades industry so they have a less intimate knowledge of trades-related systems. What stands out is the broader range of skills and specializations they offer.
They started out as Virtual Assistants for F45 Gyms but are transitioning to work with trades businesses as well. 
We don't know much about them yet – but we'll keep you posted! 
3. Australian based Virtual Assistants
You can hire someone based in Australia. Some customers are more comfortable talking to people with an Aussie accent. 
You'll pay more ($50ph base rate) for these VAs if you hire through an Agency.
They don't need to work as many hours, maybe 5 hours a week depending how much work you need to get done. 
They're normally trained in the systems you use in your business and specialise in skills you need and use as a trades business owner. 
They specialise in working with tradies and are especially good for maintenance trades. 
They cost more than hiring a VA from an agency overseas. But the upside to this is they don't need to work as many hours and can have access to many different clients.
They are also knowledgeable of all the systems and processes tradies use. So they cost more per hour but can 'buy' fewer hours. 
They too are more expensive but you'll be working with an Australian agency and all the perks I previously mentioned that come along with it.
They are particularly knowledgeable about the building and construction trades. And can help with builder specific systems and help with the documentation of these. 
4. Outsourcing
You can outsource specific jobs and processes to people who specialise in these fields. One common area to outsource to is bookkeeping. Everyone needs a bookkeeper due to the specific obligations of your individual trades business. 
They are probably the most expensive option, charging around $60-80 per hour, but you're not paying them for data entry.
Don Doolan works with tradies and builders to keep their bookkeeping in check. 
The number one lesson to take away from this article is;
Don't do your admin yourself! 
Choose one of the options I've talked about above or if you can't decide which will work best for you, get in touch with me and I can help you decide. 
Click here to book a money maker call with Jon.