Outsourcing and the Miracle of the Cloud – growing your business with offshore or external people
Today's Toolbox Tip is called "Outsourcing and the Miracle of the Cloud."
Now one of the big obstacles to growing your trade business is your ability to handle stuff, isn't it? There's only so much capacity you've got… so much work you can do, and there's only so much stuff you can handle.
The traditional way to grow a trades business is that you get busy, you get workers who are good, you hire trades people and you kind of manage the jobs, and manage the people, and manage the customers, and do all the stuff yourself and then as you grow further you hire someone to do parts of the admin or you hire Foreman or site supervisors and the like. And that's great right? And a common way to do it is for your wife to help you with the admin, and the bookkeeping, and the invoicing, or to hire an admin person (I'm sorry to the women listening to this but it is a common thing). It's not so common for your husband to be the guy, the person doing your admin.
Another way is to hire an admin person and having a bookkeeper is a common theme and this is fine, right? As far as this goes, this is fine. There's nothing wrong with that but what I'm here to say to you is, that these days things have changed. The world has changed and there are 2 new things that have come on the scene, that make this different. One of them is 'Outsourcing' and the other one is 'Cloud' Services.' I'll talk about Cloud Services next week because, otherwise, this would be a really long video and nobody likes a long video. I'm just going to talk about Outsourcing today.
RELATED: Are you in the Cloud yet?
So I'm Jon of course, I'm from Small Fish Business Coaching. I run the Tradies Toolbox Coaching Program which is for the owners of trades businesses who want to grow and scale. And one way you can grow and scale of course, is to outsource some things.
So we've all heard of outsourcing. Big companies have been doing it for years. I'm sure we've all spoken to somebody in the Philippines when our mobile phones are not working or when our bill needs paying because those larger companies have been outsourcing offshore for a long time.
Nowadays, outsourcing parts of your business, is within our reach for us small guys. Mostly because of these cloud services that make it easy and cheap for us to communicate and collaborate with our overseas staff. In the old days, that was a really expensive thing to do. 5 and 10 years ago, it was too expensive to be having overseas people and now it's not. It's cheap… they're cheap to hire and it's cheap to communicate and collaborate.
So I'll come back to the cloud next week but first I want to show you a few ways you can outsource because you've got some different options. One is to hire a specific person full-time or part-time to work for you. You can either go and recruit specifically for a role or you can recruit through sites like Upwork rather. And we're talking someone who lives where the cost of living is much cheaper than here so you can pay them a lot less and still be paying them fairly and well enough for them to be happy somewhere like the Philippines.
I do this. My assistant Venus (who some of you have met and spoken to) lives in the Philippines. She costs probably a quarter of what I would have to pay somebody here in Australia to work for me and you know and she's being paid really well and is happy, and she's intelligent, and sophisticated, and educated, and up-to-date with technology, and a joy to work with (so you might consider me a fan).
Lots of people find outsourcing, particularly trying to do it yourself a bit scary, and I will confess there's work involved. It's important that we manage Venus well so that she's motivated, so that she knows what to do, so that we help each other and we spend a lot of time working together on our processes and making sure we communicate well, and making sure we document systems and processes and all that. And if you haven't got the time or the inclination to do that, maybe that's not the right way for you.
You can't see people when they're overseas, unless you've got a webcam on them which would be a bit weird I think. You don't know whether they're working or not. There's a language barrier sometimes. English is Venus' 3rd language and she speaks to other languages too (which means she's smarter than me probably). And the cultural barriers often mean it's easy to miscommunicate and misunderstand each other.
Now quite honestly, I think the fear-based objections that we often hear you know, "Outsourcing, I heard about it once and it wasn't good," I think they're a mistake and I think a lot of the reasons it doesn't work is because people don't manage their employee or contractor properly and that can happen with an Australian person, sitting in the office next to you, right? It can go foul, and it can be hard to hire and manage and lead somebody whether they're here or overseas. So I think it's sometimes the wrong thing to blame that difficulty on the fact that they're overseas or outsourced.
However, that extra work is a barrier for some people and there's some ways around that.You can use an agency to recruit and manage somebody for you and they'll help you with the recruitment process which is kind of the hardest bit. They'll help you with some of the systems and some of the technologies to make it easier to have this person working for you but it will cost you more money.
I have made this helpful table here.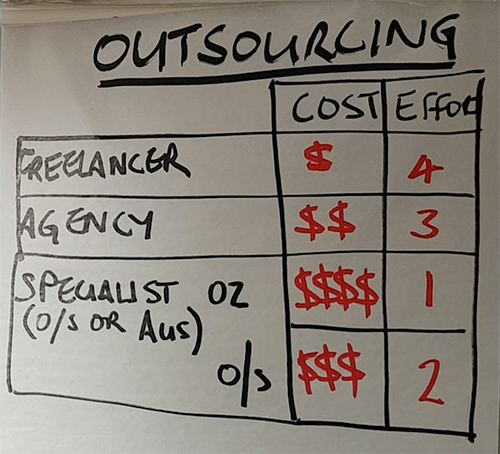 If you've got a freelancer or a sole person almost an employee, they cost rather less but the effort required to have them be useful to you is rather more. I gave that a 4. If you use an agency, the cost is more and it will be double almost, but the effort is much less and you get some systems already.
There are companies that hire and will recruit and have recruited specialists and I came across one not so long ago who recruits specialists in the construction industry. They've got estimators, and OH&S type people from the construction industry in the Philippines. So you get an estimator for $20 an hour instead of $70 and $80 an hour.
There's all these different opportunities for you, so a specialist will cost you more dollars but much less difficulty and a much more trained and skilled person.
The last kind of alternative I want to put you is not using somebody overseas, this is the more expensive Australia, more dollars but even less difficulty because there's no language barrier and there's no cultural barrier.
So if you've got somebody, perhaps in a customer-facing role, where you worry about funny accents being a barrier to your customers placing orders then you might want to have Australian people answering your phones for example.
And I know a company over here in Australia called the 'Office Shed' who has a team of bookkeepers and admin people, and people who answer your phone. It's normal prices per hour (I think $45 and $60 an hour) but the joy of it is you can buy four hours a week, right? And the other joys about outsourcing is you don't have to have a full-time person and pay a full-time wage, you can have a smaller number of hours and step into your scaling up program a piece at a time instead of taking one big bite.
So as you can see I'm a fan. I made this helpful table for you because I like tables. I think outsourcing helps you grow your capacity and then grows your business without having to spend a whole lot all at once or take such a big and difficult step.
You can leverage the power of people being overseas and cheaper to hire.
You can leverage the power of technology, which as I said I'll come back to.
You can leverage the power of other people's systems and skills and knowledge about how to do this stuff.
So all these can make a difference to how quickly you can grow and scale your business.
If we're coaching we might think about what's the right choice for you to make in your business.
Do you hire a person? Do you hire a person part-time in Australia? Do you hire a person full-time in Australia? Do you outsource to someone in Australia for a few hours or half a day a week? Or do you take the leap and go overseas and get more person for your money but understand that there is more work and effort involved?
Today, here's my question to you:
Do you outsource?
Type it in the comments, you know I'd love some comments, for me I'd love to hear what you do.
Do you outsource and if you do where do you outsource?
Do you go overseas or have you done it in Australia?
Nice to talk to you. See you!
Click here to book a money maker call with Jon.