Jon's Journey Episode 9: Site-specific Marketing For Trades Business
Hey, welcome to Jon's Journey # 9.
This is where I'm sharing parts of my journey as someone who's bought a house and using tradespeople as a customer, being on the other side of that fence and seeing what I learned so I can share it with you and you can use it to improve your business somehow. Because that's what I do, I help tradespeople grow and scale their businesses and improve their businesses.
So today, I'm cheating a bit. I haven't used a trade but my neighbours have. I'm going to show you what the trades who worked on their house did.
The neighbors have moved out. The owners have started their house up for new tenants. And one of the things they've done is, they had pressure cleaners come and do the roof and then paint it. And it looks lovely! I'll show you a picture in a minute. It looks really nice!
And by comparison, our roof looks s**t, looks shabby, and old, and mossy, and a bit grim.
And that's what I want to talk about because I have made the comparison, (oh yes I have) which brings me to my point.
Your great advantage as a trade business is the kind of physical presence that your business has when it's doing the work. Your people and your vehicles are on site somewhere doing work and your other potential customers are nearby. Whether it's houses or businesses or builders you work with, your presence is very visible to your other potential customers. That's something you can take advantage of, that's your opportunity.
Your opportunity is to use that presence to do marketing and to encourage those people, maybe to make that comparison and consider whether they want to have the same work done on their place. Whether it's the business again or a little roof on a house like mine.
Recommended Reading: Marketing Your Trades Business On The Job Site
Site-Specific marketing
So what do I mean by that? I call it Site-Specific marketing because it's specific to the site that you're on and it's real basic stuff.
It's signage, right? It's taking advantage of that physical presence and that visibility. So it's:
Vehicle signage. Get your vehicle wrapped, looking beautiful and make it clear what you do.
It's uniforms on your boys.
A-frame signage so you leave a sign there, pointing out that work's going on when your vehicle's not there, particularly if you can't park right adjacent to where the work's happening. A-frame sign on the pavement outside a shop, for example.
Leave-behind sign. If you have the opportunity, leave a bloody sign behind. One of those cheap $10 corflute signs, 'Kitchen was built here', 'Fencing was done here'. (Fence is a good idea). Leave a sign on the fence and leave. Leave it there until the owners call you up and say "Come and get your sign."
And the last one of course is flyers (leaflets). Put leaflets around the 20 nearest neighbors. 'Roof clean just done. You might want to get your roof cleaned.'
Now, I found this business card in my letterbox when I came back from somewhere the other day, noticed the shiny roof next door which is what prompted me of course to make this video. They've done some Site-Specific marketing.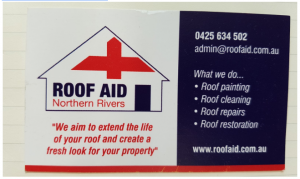 Now, they could have done it better. They could have given me an offer telling me how cheap and easy it is to have a roof cleaned and how much it adds to the value of your house, or how much it adds to the average rent you can get if you decide to rent it out. They could have done that but they're on their own. They're trying and they're doing okay.
This is my message to you
If you are visible, all your people and vehicles are visible to other potential customers, consider your site-specific marketing, consider your signage, your vehicles, your uniforms, your leave-behinds and your A-frames and your flyers.
Now, part of what I do as a coach is helping people decide whether they should be investing their money in this stuff or whether they're better served to invest it in different forms of marketing. That's what happens if you're my client. You don't just go "you should do this," we decide whether you should do it and we take and set priorities for your spending and your marketing and the things you do so you get the maximum return on your investment and the maximum growth for your business, which of course is why we're here. That's my job, to help you grow and scale. And most business people that I know want to grow and scale and make a bit more money.
Anyway, I'm off. I'm Jon. See you later!
Click here to book a money maker call with Jon.