Tell people what kind of trade you are. Know your value proposition.
It's easy to think that a trade is a trade, a plumber is a plumber, the sparky is a sparky, builder is a builder. I don't think that's true. There are very different types of trades business and the customers can tell the difference between them and they know which one they want. There are good trades, there are bad trades.
Does your marketing tell your customers and the people looking for a trade to choose what kind of trade you are. I hope you think it should. I certainly think it should.
I'm Jon from Small Fish Business Coaching, I run the 'Tradies Toolbox' Coaching Program. It's for trades business owners who want to grow and part of that is getting clarity on the marketing messages you want to send so your customers know what kind of trade you are and can make an informed choice as to whether they enquire. I think that's important, an informed choice.
They don't buy a plumber, they buy the right kind of plumber, the one they want, whether that's cheap or more expensive but better quality or whatever is up to them. But you need to tell them which one you are so they can decide.
What I'm talking about here, of course, are these lovely words: Value Proposition, Unique Selling Proposition or Unique Selling Point or USP, or your Point of Difference which is all marketing bollocks for:
'Why you should use us?'
'Why you should use this trade or this business as your trade for the project?'
RELATED CONTENT: Search Marketing (Generating Enquiries for your Trades Business) Are you being found?
It's good to use, in our language, is 'What type of trade are you?' If you don't make it clear what type of trade you are, your customers have got nothing to go on. They're just going to have to guess which means all they've really got to go on is your price, which of course means you can't charge too much or you won't win and you end up with crappy margins on your jobs.
If they've only got that, you haven't got much to go on.
So I've made a little table. I'm going to whisk through it just for fun.
You can be: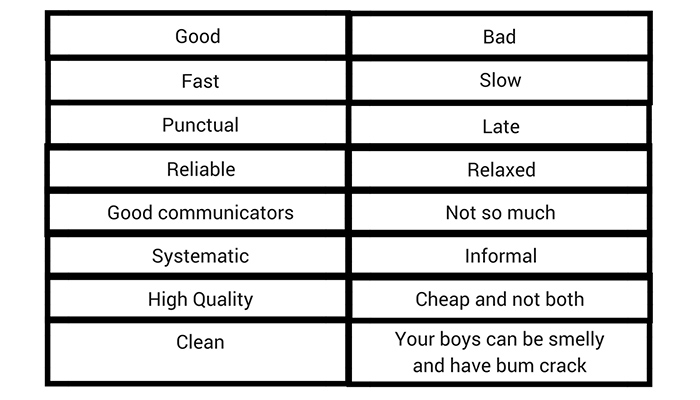 There are very different types of trades and there are very different experiences people will get when they hire a trade business and you need to tell them what sort you are. People do know what kind of trade they want and especially they know if you prompt them to consider it by telling them what kind of trade you are.
Everyone says they're the good type, don't they? No one's going to advertise on their website and say, "We're really cheap and a bit slapdash and our guys all smell and swear and you won't like us."
But you can prove it. You write that stuff on your website and you prove it with pictures, with video, with descriptions of the processes you use, with images of your vehicles and your nice uniform, shops, and all that sort of stuff. You set yourself apart from the cowboys who don't do that at all.
You have a current up-to-date website. All these kinds of things sets you apart from the rubbish trades. So just by doing it, you're one step ahead. Look the part, wear the uniforms, drive decent vehicles with good sign writing, have testimonials on your website and in your marketing, even videos on Facebook. You'll soon set yourself apart, you'll soon give people a reason to choose you.
Now as I said, I'm a coach and if you choose me, (do you like that little segway over there?), I'll help you put this stuff together. I'll help you write the stuff to put on your website and I'll help you get some clarity on what kind of trade you are so your customers can make an informed choice.
Now look, obviously the question I'm going to ask you to write in the comment below today is, "What kind of trade are you?"
And don't just write, "I'm a good one."
So tell me – "What kind of trade business are you?"
Why don't you use some of these kinds of words to describe the kind of business that you are.
See you later.
Click here to book a money maker call with Jon.