How Good Work Culture Wins
Hi, I'm Jon from Small Fish Business Coaching and I'm talking about 'Culture', particularly, how culture wins.
Have you got good work culture in your business?
I've said it before that culture is important, and I'll say it again. It's particularly important for a trade business because you're a people business.
People are out there doing the work of your business and you're going to grow and scale by having these people doing the work of your business, and by doing it well, quickly, on-time, on-budget, and by being nice to all the people who are your customers. So, people are important.
A good work culture means your people – I'm not going to distinguish between your directly employed staff, subcontractors or your other people.
All your people:
Want to do a good job
Understand where you're taking the business and they want to help you take it there.
In a good work culture, stuff works, morale is high, engagement is high, people feel looked after and they want to look after you and your business and each other in return.
I saw this interesting article with this great infographic in an email from a Culture Consultancy called Corporate Culture Consulting. They're in the US, and it's a really interesting infographic.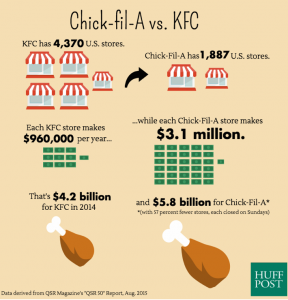 In the USA,  KFC has 4,000 stores and Chick-fil-A has less than 2,000.
Chick-fil-A is closed on a Sunday.
Each KFC store makes less than $1million a year and each Chick-fil-A store makes more than $3 million a year even though they're closed on Sundays.
KFC is a $4 billion company and Chick-fil-A is a $6 billion company with half as many shops, is closed on Sundays, and is arguably doing rather better.
'Why is this?' – You might think.
The boss of Chick-fil-A believes it's down to culture and he says, "We're in the people business".
And that's the message of the email they sent out.
Invest in your culture. Look what you can do, you'll make more money.
I found that story quite powerful and persuasive, and I'm sharing it with you to support my argument that you guys need to be investing in the culture of your business.
Recommended Reading: Why A Christmas Party Is NOT Enough To Build Your Company Culture
I have to try hard to be culture-driven in my business. I'm running the four of us. It's not a big business, it's quite easy to do but I look after my team financially. We look after each other emotionally. We're responsive, and supportive, and open, and we share the values and we communicate regularly with each other. It feels good. Loyalty goes in both directions and we all come alike.
I want you to get that sense into your business.
I meet lots of trades businesses. Some of them do and some of them don't. And if you neglect it, you won't have the one you want.
It's an active process.
I'll tell you what it is…
A trade business with a good work culture feels good like my business does. People feel:
Looked after by you, and they want to look after you and maybe each other in return.
Aligned with the direction of the business where you're taking it and they want to help you take it in that direction.
They're doing worthwhile work – maybe work that they're proud of.
Their values and your values are aligned or similar, which is very comfortable, and reassuring and nice for them.
The opposite is also true.
It's not nice if your values aren't aligned.
And a bad work culture is distinguished by the absence of those nice things and by dissatisfaction.
Your employees are unhappy, perhaps, looking to leave and there is disagreement about how you do things. It's characterized by antagonism and by high turnover of staff.
If you find yourself losing people and having to replace them, it takes time and energy. If you find that happening a lot, maybe you need to look at how your culture is.
A bad work culture is not good and is costing you money.
It's on you, I'm afraid. Culture starts and finishes with you. You set the culture, you drive the culture and your employees will fit in with the culture that you set, not the other way around.
Here's how to set your culture:
Be open
Be generous
Write your values and share them with everybody
Behave true to those values
Look after your people, really look after them genuinely
Share your strategy
Share your progress against that strategy so that they know what you're doing and where you're all going together
Share the kind of business you want to be
Remember, this is a journey as well. You need to keep doing this. It's a continuous investment in your team, and your business and that important culture. And it's worth making.
I've hammered that home hard enough, it's worth making, you should do it.
Business coaching, of course, is an investment as well and you can explore it with me.
Click here to book a money maker call with Jon.