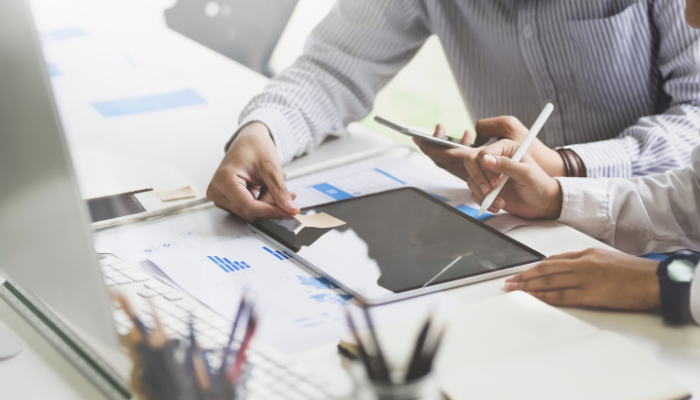 Business Coach & Business Coaching: Why Your Business Needs One
Business coaching is something that's becoming more and more popular in nearly every field and the trades industry is no exception.
Trades business owners understand that for their business to succeed they need more than just hard work on the tools.
They're concluding that what they need is experience and expertise in business; that is how to manage a business, structure a business, market a business, grow a business and profit from a business.
And they need someone who's an expert in all those skills, someone to help them help their business grow and profit the way they'd like to see it.
What they need is a business coach.
Jump to:
So, what is a business coach?
A business coach is someone who'll help train you in all methods of business. But there are various types of business coaches out there and all of them take their own approach. So I'll take you through the type of coaching we do at Small Fish Business Coaching. 
We use a combination of methods in our teaching practice. It's not merely us throwing information at you while you try to gobble it up before it drowns you. No, we coach in a methodical, structured way; similar to how we'll help you structure your business. 
So what does this combination of methods include? 
Business training, the nitty gritty. We'll teach you the systems and structures you need to implement in your business to grow and profit from it properly. You're taught this through an extensive video training program. 
One-on-one business coaching

with me. We'll create strategies for your business and implement them. I'll help you stay on track, make those important decisions and answer any questions you might have. I'll also push you and hold you accountable for the goals you make. 

Group business coaching

. We hold group coaching sessions weekly where all our clients come together and I choose a relevant topic that we breakdown and discuss. Learning and encouraging one another in a group environment is an integral part of the program and incredibly helpful for your business as you get advice and experience from others in the same boat. 

Facebook groups

where we post and encourage clients to post regularly, start relevant discussions and bounce ideas and suggestions off of each other. 
All these methods combined are what make up our coaching program and illustrate what a business coach does for you and your business. 
What does a good business coach do?
A good business coach should do all that I've mentioned above or something along the lines of that. 
A good business coach should be teaching you how to consistently profit from your business through the implementation of structure and strategy into your business. 
At Small Fish this takes on the form of our Framework:
Marketing machine

(that finds the work) 

Sales machine

(that wins the work) 

Operations machine

(that does the work) 

Back office machine

(that does the admin) 

You

(you learn how to manage yourself and your time) 

Your team

(you learn how to look after them and create a good work culture). 
With this solid framework implemented into your business, your business will consistently bring in work, win work and do the work as well as all the back office jobs without you (the boss) having to micromanage every little thing. 
Basically your business will run in a smooth, reliable and of course profitable manner like a well oiled machine. 
What qualifications should you be looking for in a business coach?
Before jumping into coaching you should definitely think about the qualifications needed to make a successful business coach.
1. Experience
I believe it's very important for a coach to have experience. To not just talk the talk but have walked the walk. To have failed and succeeded in business. To have insight gained from those real-life experiences so that when they coach you, you don't make the same pricy mistakes and you have a clearer path to success. 
2. Expectations and Holding You Accountable
A great coach has expectations for their clients. The most important being that they hold you accountable. A coach should make his or her clients responsible for the actions and promises they make. I pride myself in doing just that with my clients. 
I understand life is busy, things get in the way. But I'm here to help you keep those promises you made and reach the goals we put in place for your business, as I care about how you're going. 
That's what a good business coach does.
3. Connections
A business coach needs to have a vast network of people to help you in different areas of your business. At Small Fish, we have our Partner Program; a large pool of other Trades related businesses that our clients can benefit from. 
Because sometimes you need help in a specific area, like web design. Someone we trust and know does a good job. Sometimes it does matter who you know. 
4. Expertise in the field
Ask yourself; are trying to do it all? Because that indicates a base or limited knowledge in a variety of fields. 
When choosing a coach look for someone who has a niche, who's specialized in a specific area and can focus on providing business coaching for that area. I chose Tradies. I like them and work well with them. 
A business coach should have an in-depth pool of knowledge and be actively sharing this knowledge with the public. In the form of webinars and lectures or instructive videos. Maybe they write blogs or books. These indicate that a coach is qualified in the specialized field of coaching they've chosen.
5. Attitude and Style of Teaching
The perfect business coach loves the act of teaching, enjoys helping others out and you should be able to see this from the start. If this is the case when you first meet a potential business coach, it's a good indicator of what they'll be like throughout your relationship. 
Their attitude and accessibility are other qualities of that 'perfect business coach'. 
Do they make themselves available to you whenever you might need them? You must be able to access your business coach.  
Do they have a good attitude? A sense of humour (I think goes a long way), as well as being persistent and tenacious with a little patience of course. 
When looking for the ideal business coach, keep all of these qualities in mind as each is as important as the other if you want to get something useful out of the experience, i.e. growth and profit from your business. 
Does business coaching really work?
Yes, of course! 
I'm biased but if you think about it logically; throughout all walks of life people take on coaches and teachers when they want to change or grow – it's a logical solution. 
In regards to business coaching specifically, I believe getting a coach really does help you and your business but there's a catch; you have to be willing to put in the work too. 
The structures and systems support the growth of your business – if you build them into your business. The strategies work – if you implement them. 
The overall business coaching program will help your business grow and become sustainably profitable. 
IF YOU PUT THE WORK IN
I can throw everything and anything at you but you have to be willing to change and want to grow. 
So can you?
How much does a business coach cost?
It's a lot; obviously. 
At Small Fish, we charge a monthly fee of $2000 + GST for the Tradies Toolbox Coaching Program. 
Business coaching is a big investment, you shouldn't take it lightly. 
You should make sure we both feel it's the right investment for you to make right now and that you're going to get a good return on your investment. 
My job is to make you more money and you should make significantly more than a year of business coaching will cost you. 
So do you need a business coach?
If the answer yes, book in a 10-minute chat.
We'll see if we're the right fit for each other. 
Click here to book a money maker call with Jon.